You've changed your relationship status on Facebook to "engaged" and you're suddenly inundated with sponsored ads from thirsty wedding vendors ("BOOK YOUR SOUTH FLORIDA ENGAGEMENT SESSION NOW!") and "OMG YOU'RE ENGAGED" posts. Now that all your favorite people know, and after a fresh mani (because ring selfies!) I bet you're sitting there like "Ok now what?"
I mean obviously I'm hoping you're considering me to photograph such an important day in your lives, (you're here, aren't ya?) but before we go all the way – have you considered an engagement session?
OF COURSE YOU HAVE.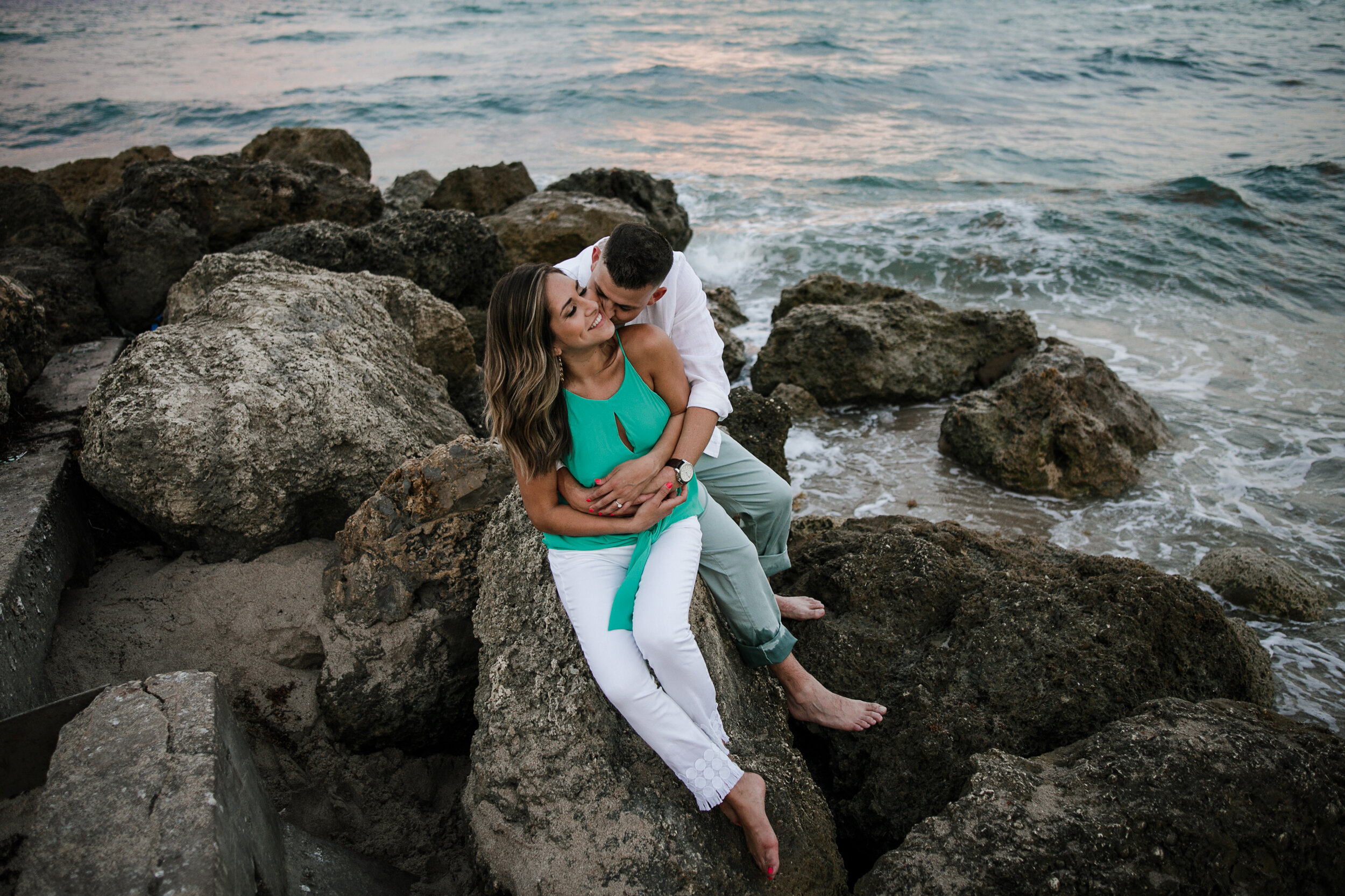 This blog isn't here to guide you through the entire wedding process, but after you've selected your date and venue, it's time to start thinking about how your wedding day and the events surrounding it will go down in history – photographically of course.
LET'S START WITH WHY
Aside from providing you with beautiful, emotional portraits in a casual setting, engagement sessions allow us to get to know each other before the big day. Knowing what to expect from your photographer and feeling relaxed in front of the camera are critical for photographic success on the big day.
Also, I tend to get STUPID excited over good light and snuggly couples. It's nice to get used to that "Sonju Grunt" way before the wedding day so you don't think I'm a huge weirdo.
So let's break it down:

-Trial run for the big day
-Chance to see how your makeup will photograph (some clients like to schedule their makeup trial on the same day!)
-Get used to the #sonjugrunt
-New photos for the 'gram
-Upgrade your sign-in book/wedding website/FB profile with fresh photos
YOU KNOW WHY, LET'S MOVE ON TO WHERE
The truth is, the location isn't as important as how you two interact in front of my camera (and I'll help you with those awkward "but what do we DO?! moments) But, we might as well have fun doing it, right? Here are some of my suggestions for your South Florida engagement session:
Dr. Von D. Mizell-Eula Johnson State Park (Formerly John U Lloyd) Dania Beach
I love this beach for a few reasons:
It's a good location between Palm Beach and Miami, and you can grab dinner (or breakfast!) at the restaurant nearby.
It's generally less crowded than other public beaches
It gives us lots of variety with the beach, boardwalk, bridge, and marina nearby
GORGEOUS light in the afternoon
Recommended wardrobe: Whites, navy, coral, red. Flowy fabrics for the ocean breeze, beach waves in your hair, sandals and maybe some heels for the non-sand spots. For him: Pants that can be rolled up, casual blazer, loafers.
Downtown Brickell – Miami
It may not be your favorite during rush hour, but the city gives us LOTS to work with for your Miami engagement session!
I like to meet in the financial district, near Brickell City Centre. There are skyline opportunities, concrete, and polished marble (reflections!)
There's also a small park near the water, and a good place to walk your pup if you bring him along!
Need a little liquid courage before we start? Plenty of awesome bars in the area!
It tends to get darker earlier in this location (thanks, big tall buildings) But if you don't have a curfew, we can head over to the bridge for some sexy blue hour portraits.
Worth Ave, Palm Beach
Looking for a classier, Europe-y feel but kinda want a good good South Florida beach too? Worth Ave in Palm Beach is the answer! Street parking is easy in the spring & summer, there are tons of cute alleyways and pockets of light, and the clock tower and beach is a great way to end our session together.
For wardrobe, something a little more "date night" – cute cocktail dress, heels, and a suit for him. Keep a casual change clothes in the car for those clock tower/beach shots!
Bring the pup! Worth Ave is pet-friendly!
There's tons of walking, so bring some chancletas for comfort
YOUR FAVORITE RESTAURANT
Not a beach person? LOVE FOOD? Then your favorite restaurant might be kind enough to give you an all-access pass for your engagement session! You and your love have probably spent many a date night at your favorite restaurant, so why not make it part of your love story?
STAY HOME
I won't give away all of my "secrets" to South Florida engagement session locations, but sometimes it's fun to JUST STAY HOME AMIRITE? If you've never considered one at home, lemme try to change your mind.
Home is where the heart is, so doesn't it make sense to grab some photos there? Past couples of mine have made dinner (and dessert!), cocktails, or just cuddled on the couch. How sweet will it be in 20 years to look back and cringe at your furniture and marvel at how cute (and youthful) you two were at this stage in your lives?
Plus, I get to pet your dog.
Casual is KEY. Take off those tight pants, let your hair down, and get in your pajama-jamas!
Have the ingredients prepared and ready to grab in your fridge when we get there
Think of your favorite cocktail, and make one together!
Not really into date nights? In-home sessions are for you! Grab a snack, throw on Netflix, and let's get weird as I stand on your bed and photograph all those sweet cuddles.
WHEN TO SCHEDULE YOUR ENGAGEMENT SESSION
I'm sure there's lots of good ideas swirling around in your head, but you need to know one thing – WHEN.
Most of my couples schedule their engagement session in opposite seasons. For example, if your wedding is in November, consider doing your engagement session in the spring. It's nice to have some variety in your final engagement and wedding gallery. Of course, with some couples being from out-of-state, sometimes our only option is the week before the wedding – and that's ok too!
After the engagement session, you'll have 40-60 fresh photos with the bomb lighting, so you might as well put them to work. Consider a sign-in book for your wedding reception, or some prints to decorate the escort card table. And of course, engagement sessions are perfect for those Save-the Dates! I have all the tools to help you design custom cards, order prints, or hey, make big head props for your Juju Booth photo booth rental.
Now I want to hear from you! How did you make the most of your engagement session? Or are you still in the planning stages and looking for a photographer? Click the button below and get in touch!We're engaged! Let's shoot!
Looking for more wedding tips for your South Florida engagement or wedding? Check out some of my other articles here: Help me, Sonj.